Cannes Lions 2019: 2x Silver Lion Wins & Festival Round-up
Spirable was on the ground at Cannes Lions 2019, and are proud to announce that we won, not one, but two Silver Cannes Lions alongside for our client Deutsche Bahn's "No Need To Fly" campaign.
Spirable's innovative platform was used to automate video creative using dynamic flight pricing and comparing beautiful destinations abroad with similarly beautiful places in Germany with the message "why fly when you can spend only 19 euros for the same experience in Germany using Deutsche Bahn".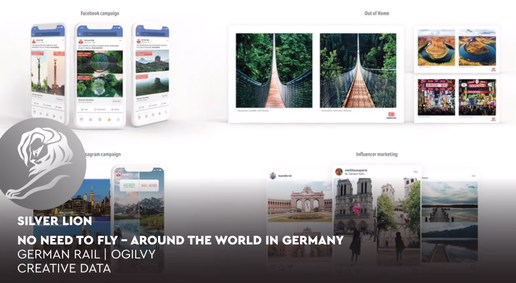 Advertising and media professionals from around the globe descended on Cannes last week for Cannes Lions. The annual festival and awards ceremony celebrates the best campaigns of the past year, and looks forward at emerging trends and technologies.
The event offers attendees the opportunity to collectively reflect on important issues and themes which may be food-for-thought when thinking about their future projects. It also allows for a chance to mingle with clients, partners and agencies to discuss new opportunities.
Read on for the highlights from this year's event that stood out for us.
Immersive Experiences
Experiences and activations were front and center this year, with installations by the 'usual' suspects including Facebook, Instagram, Pinterest, Google, and Snap. Of particular note was the developing appearance of augmented reality (AR).
It has since moved from being a gimmick to a reliable tool for campaigns, adding interactivity for truly engaging experiences. Burger King were a prime example of how to integrate AR, with their campaign "Burn That Ad" using AR as a key element and driving customers both to install their app for a free Whopper burger coupon, and sending them to their nearest store to redeem it.
Equality and Diversity
Another highlight of this year's event was courtesy of The Female Company, a German startup that sells organic tampons. Unsatisfied with the rather ludicrous level of tax applied to female sanitary products they came up with a rather ingenious idea to sell them as a book, which has a much lower level of tax applied to it: at just 7% compared to the 19% it normally would have added on.
Unilever (Dove) and Getty Images were also recognised for their joint project "#ShowUs". The main onus of the campaign was to disrupt the current stereotypes surrounding stock imagery and create a new library of 5,000 images. These images reflect a diverse spectrum of women, grounding the media selection in reality, and not how we think women should appear.
Accessibility
If you look at the biggest winners of this year's coveted awards, you'll find that accessibility was a key theme, and rightly so. Both Microsoft and IKEA swiped awards for magnificent purpose-driven campaigns.
Microsoft developed an adaptive Xbox controller for more accessible gaming, which snapped up a gold lion award in the Brand Experience and Activation category.
IKEA also won big with "ThisAbles", an initiative featuring modular adaptations which could be added to everyday household items to make them more user-friendly, and additionally can be 3D printed.
The Environment
It's probably the most divisive and pressing issue facing the world right now. How do we as individuals – and also the organisations we work for – combat climate change, and become more environmentally friendly.
We all have a collective responsibility to do our part, no matter how small it is, and many companies are now waking up to this fact, and putting the goal of being more green front-and-centre as more and more consumers demand brands to be more thoughtful of the waste they produce.
The message at Cannes continued to build on this sentiment, albeit with an unscheduled visit by the Extinction Rebellion movement to ensure that business leaders don't forget it.
About Spirable
Inspired by the campaigns at Cannes Lions this year? Are you looking to create award-winning dynamic video content for your next campaign?
The Spirable platform is an efficient way to reach vast audiences with relevant and personalised content. Spirable helps to bring the campaign production in-house, keeping the marketing budget under control.
Contact us to explore how you can create personalised content for your customers with Spirable!