Spirable Celebrates Pride
Pride Month at Spirable
Celebrating Pride is really important to us at Spirable. Championing equality, representation and inclusivity is deeply ingrained in our culture. We strive to be a supportive workplace where everyone can be their true, authentic selves.
Although Pride looks a little different this year without the large-scale events , that doesn't mean we can't come together and use our voice in support of progress and change for the LGBTQIA+ community.
---
Miguel's Story
When I started out in my career, I often felt that I needed to pretend to be a particular person. I would hide away the parts of me others might not like or agree with, that it wasn't important, or that it might hinder my opportunities in the workplace.

I would soon learn that being yourself, and opening up to others isn't always as scary as it seems, and more often than not, you will be greeted with open arms.

I was once told that "what makes us different, is what makes us unique and beautiful in our own way, who would want to be the same as everyone else?" and that has really stayed with me as I continue to grow as an individual.

At Spirable, I have never felt the need to hide who I am – I feel valued and respected, our differences are celebrated. It's an uplifting and encouraging environment that I'm proud to be a part of, and although we still have more to learn, I'm happy that I can be a positive influence in that journey.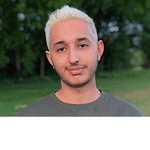 Miguel Babukhan (he/him)
Marketing Manager at Spirable
---
Looking forward
As a team we've chosen to donate to the Terrence Higgins Trust in recognition of all the fantastic work they do to support and educate people of all ages on HIV and sexual health.
Pride isn't a once-a-year occurrence, it's a commitment to our employees, customers, audience and society that we will always stand up for the qualities we hold dearest. This is why we are also using this as a moment of reflection to learn more about how we can elevate and amplify the voices and experiences of those who should be heard.
From all at Spirable, we wish you a Happy Pride!