The Future of Advertising is Personalised: An Incredible Meeting with Mark Zuckerberg and Sharing the Spirable Vision at F8
It's not every day you get to be part of a small roundtable meeting with Mark Zuckerberg, but this has been no ordinary year for Spirable who are taking data-driven personalised video by storm for the world's leading brands; Unilever, P&G, Diageo and Vodafone to name a few.
Spirable was invited to participate in the exclusive roundtable as part of Facebook's annual F8 conference. The meeting hosted just 8 other industry leaders from diverse businesses including Ticketmaster, Tokopedia, Go-Pay, FlipKart, Hubspot, Globo and LeoAR—who have all built businesses aligned with Facebook's mission of making the world more open and connected. The goal of the session was to talk openly with Mark on the challenges and opportunities we face and how Facebook can better support us in our mission.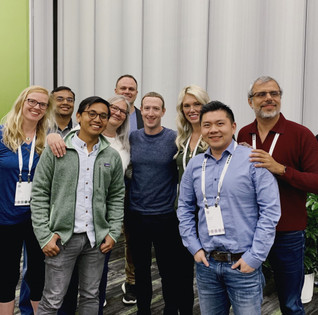 For Spirable this was the perfect opportunity to talk about our vision for personalised advertising. A future where all the ads you see across Facebook, Instagram and Messenger are as relevant and useful as your friends content. Ads you want to stop and engage with because they are informative, entertaining, humorous or all of the above. We know personalised advertising works because we see the amazing results our clients achieve.
Vodafone is a great example and last week earned us the accolade of Video Platform of the Year at the Digiday Media Awards. Vodafone used Spirable to create hyper-relevant and personalised video ads to drive sales of the new N9 device range and leveraged contextual data such as the weather, time of day, day of week and audience data to dynamically create thousands of different video ads highlighting key product features that would interest specific audiences. Geo-targeting was used to direct people to their local store, or online if they were further than 2km away. The campaign achieved a massive 100% uplift in sales and 3x more website visits. Proving the power of personalised advertising, both online and offline. 
The key to success is contextual data, the 'non creepy' live data that makes the advertising reactive and in the moment. Weather data is a good example, if it starts raining the ad creative, product recommendation and messaging automatically update, making the ad tailored to what's going on around you in real-time. We see this as a big opportunity for brands to use the right type of data to fuel their advertising campaigns and it aligns well with Facebook's focus on privacy and security.
Next stop, the main stage for the Partner Innovation Panel
Immediately after the session with Mark we were on stage as part of the Partner Innovation Panel, helping to educate the audience of developers, brands and agencies on the latest innovations in automation and AI across creative, ad tech, messaging and SMB.
Here we were able to share the news of a major development we introduced to the market for SMB's called SpirableGO, this enables smaller businesses to easily connect live data and creative assets together into on-brand templates that can generate thousands of dynamic video ads in a matter of minutes—something that would be impossible without creative technology. The creative is built in a modular way and is 100% customisable which means smaller businesses are able to be much more reactive and optimise their campaigns in-flight to drive the best performance.
Previously a change to a video would take days to turn around, potentially going back and forward with an agency, this can now be done in-house via the Spirable platform and pushed live to Facebook instantly through the API.
Watch the full panel session below:
The days of generic advertising are over. We've proven that relevant and personalised ads perform better and the reason for this is everyone is different and has their own set of unique needs, likes, dislikes, preferences and set of circumstances that drives their behaviour. So for brands to successfully connect on an individual level requires an individualised approach to communications and advertising. Doing this at scale is the tricky part but that's where we come in. 
If you'd like to learn more contact us for a demo or reach out to me directly at Lauren@Spirable.com